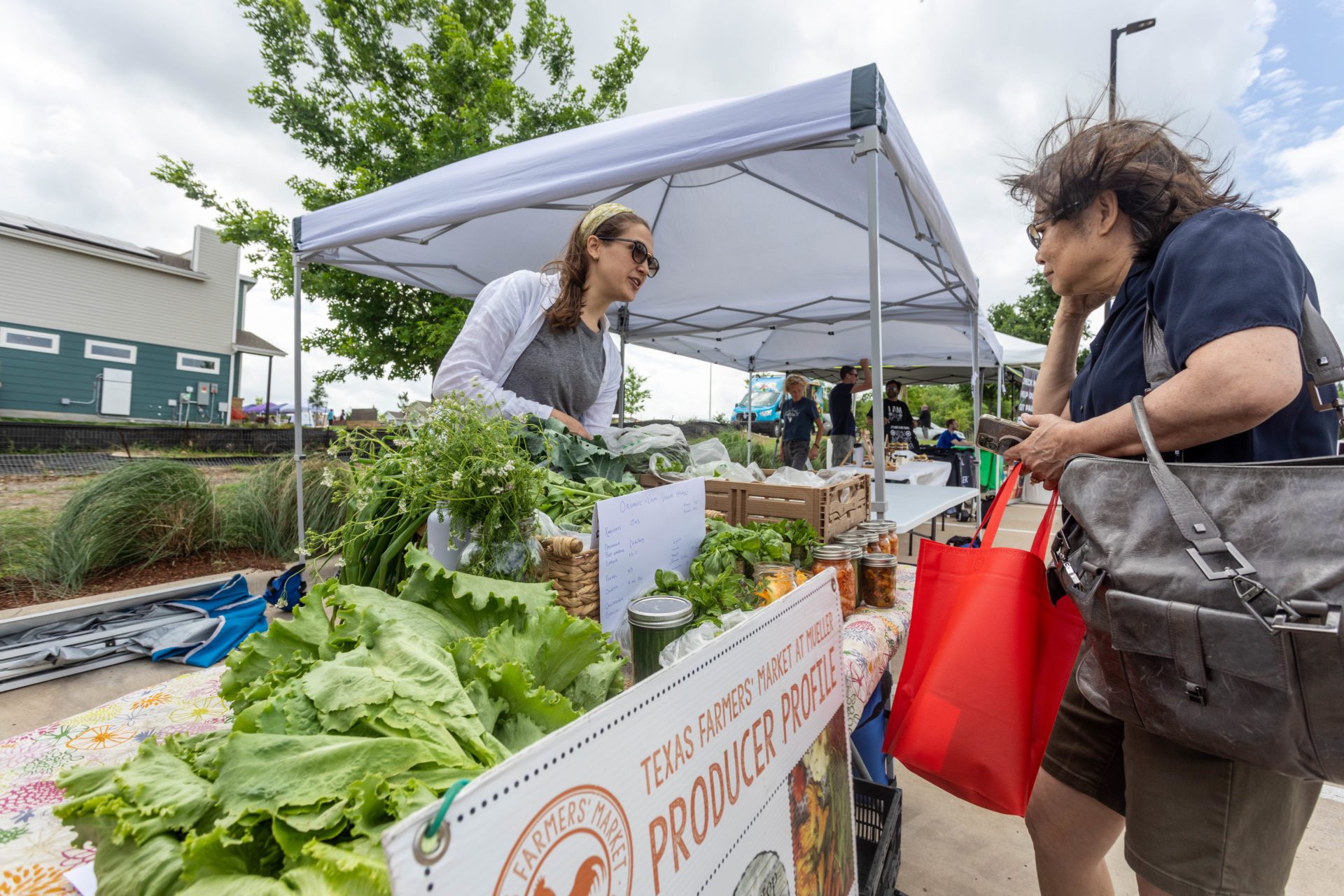 Austin Area Farmers Markets to Check Out This Summer
Buying seasonal food is not only fresher, tastier and more nutritious, but it's also better for the environment. It's easy to find seasonal produce and support local farmers by shopping at Austin area farmers markets!
Here in Austin, we're fortunate to have access to a variety of farmers markets well known for their products and vendors. Check out a few of these Austin area Farmers Markets to check out this summer (and beyond!).
Austin Area Farmers Markets
Boggy Creek Farm Stand
3414 Lyons Road Austin, TX
Wednesday-Saturdays 8 a.m.-1 p.m. (Wednesday and Saturday only in August)
Established in 1992, Boggy Creek is an urban farm in East Austin offering fresh produce, eggs, dairy, meat, bread and much more. You can shop at the farm stand Wednesdays-Saturdays throughout the year, but only on Wednesdays and Saturdays in the month of August. Shoppers are urged to visit early since availability changes throughout the week and each market day.
Manor Farm to Market at Whisper Valley
9400 Petrichor Blvd. Whisper Valley, TX
Every Third Saturday 10 a.m.-1 p.m.
Shop from local farms and vendors right here at Whisper Valley! Located at the Whisper Valley Discovery Center every third Saturday of the month, the Manor Farm to Market hosts a variety of vendors and items including farm-fresh produce, food, baked goods and jellies, jewelry makers, dog treats and supplies, plants, skincare and much more. Our next market is May 21!
The Texas Farmers Market at Mueller
2006 Philomena St. Austin, TX
Sundays 10 a.m.- 2p.m., rain or shine
Voted the Austin Chronicle's Best Farmers Market, The Texas Farmers Market at Mueller features fresh produce and artisan foods from local farmers and vendors. View their current list of Mueller Vendors.
Manor Community Farmers Market
104 E Rector St, Manor, TX
Wednesdays 4-7 p.m. April-November
Located at Tractor Supply by Elgin, you can shop for pickles, seasonal fruits/veggies, plants, handmade goods, organic and gluten free baked goods, and so much more. The Manor Community Farmers Market's goal is to provide a place for the community to come together around great local products and businesses.
SFC Farmers Market Downtown
Republic Square, 422 Guadalupe St. Austin, TX
Saturdays 9 a.m.-1 p.m. Open year-round, rain or shine (with exception of severe weather)
The SFC Farmers Market in downtown Austin has been serving the community since 2003. The open-air marketplace features over 75 weekly vendors including local farmers, small local businesses, community programs and activities for the whole family. Fan favorite items include peaches, tomatoes, seasonal veggies, pasture-raised meat and pastries.
Pflugerville Pfarmers Market
Heritage Park 901 Old Austin Hutto Road Pflugerville, TX
Tuesdays 3-7 p.m. May 3-October 25, 2022
The Pfarmers Market at Heritage Park in Pflugerville features fresh, locally grown and prepared foods. Vendors sell a variety of produce including tomatoes, cucumbers, beans, squash, okra, garlic, melons, peaches and grapes. The market also features artisan baked goods, honey, plants, eggs, free-range meats, salsas, pickles and jams.
Barton Creek Farmers Market
2901 S Capital of Texas Hwy, Austin, TX
Saturdays 9 a.m.-1 p.m. (year-round)
This market is located at the Barton Creek Square mall and boasts a fantastic view of the downtown Austin skyline. Enjoy live music while you explore the vendor booths selling freshly baked breads, Fredericksburg peaches (during late spring/summer), fresh cheeses and milk and other organic, farm-fresh goods.
Which seasonal summer fruits and vegetables are you craving – cherries, berries, corn, watermelon or tomatoes? Make sure to visit these Austin area farmers markets to support local and find the tastiest produce available!
Whisper Valley is proud to be home to the newest Austin area farmers market, the Manor Farm to Market. As an eco-conscious community with several organic gardens managed by our community farmer, Whisper Valley helps homeowners lead a healthier, more sustainable lifestyle right here at home.
To learn more about our East Austin community, check out our latest blogs and contact us today for more information about Whisper Valley living.