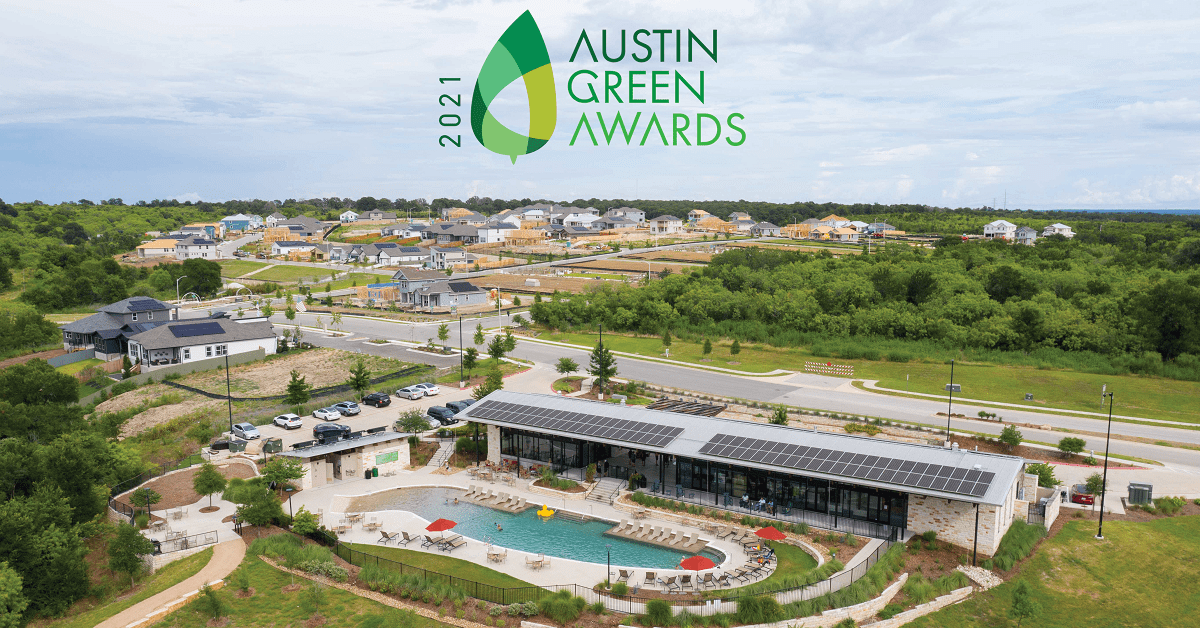 Whisper Valley Named Project of the Year at Austin Green Awards
Continuing a prestigious real estate award winning streak, Whisper Valley was named "Project of the Year" at the 2021 Austin Green Awards on Wednesday, Nov. 3.
The Austin Green Awards is Austin's first recognition program to specifically highlight the outstanding accomplishments in the broad arena of sustainable design and innovation. According to the organization, "Awardees will set an aspirational bar of what is possible by responding to rapidly evolving environmental, social, and health imperatives."
Measures of sustainability taken into account when judging the projects include: site ecosystem services, water, energy, materials used, health and wellness, operational strategy, economic performance, equity and engagement, community place, and resilience.
Making Sustainable Attainable
The vision for Whisper Valley is to be the most affordable, sustainable, large-scale master-planned community in the nation and to change the approach to residential development, utilizing sustainable development principles on a mass scale. In order to accomplish this, the community developers created a way for builders to easily and affordably meet strict building codes in order to bring net zero energy capable homes to the mass market, greatly reducing the community's footprint and preserving our planet for future generations.
That's where the EcoSmart Solution comes in. As Whisper Valley's green energy services provider, EcoSmart utilizes a first-of-its-kind, community-wide GeoGrid™ to deliver geothermal heating and cooling to every home, reducing energy consumption of each home by up to 70%, and solar to generate electricity. Additionally, all homes come with energy monitoring and management technology that allows homeowners to visualize their energy habits and understand the true value of energy savings and carbon-reduction lifestyles.
Whisper Valley is the largest master-planned development in the nation to use this new geothermal infrastructure to power 7,500 residences as well as planned future commercial buildings, schools, a fire station and more.
Award-Winning Design
The city of Austin aims to reach net-zero emissions by 2040, and Whisper Valley is proud to lead the way in residential construction. In 2018, Whisper Valley earned the coveted Austin Energy Green Building 3-Star Certification. All new homes in Whisper Valley are ENERGY STAR certified and achieve a HERS rating of 25 or below. In fact, most homes are rated in the teens and low 20s!
Whisper Valley was also recently recognized as the Master-Planned Community of the Year at the Greater Austin Homebuilders Association's MAX Awards. The judges recognized the innovation and impact this sustainable development will likely have on future master-planned communities across the nation.
Find Your New Austin Home
New homes are currently underway in Whisper Valley by six builders: Pacesetter Homes, GFO Home, AHA Dream Homes, Thurman Homes, CastleRock Communities and Terrata Homes. A new model home row opened along Petrichor Boulevard in Phase 2 of Whisper Valley, Whisper Highlands.
Interested homebuyers can explore our inventory list and contact our builders directly for more information about availability and floorplans.