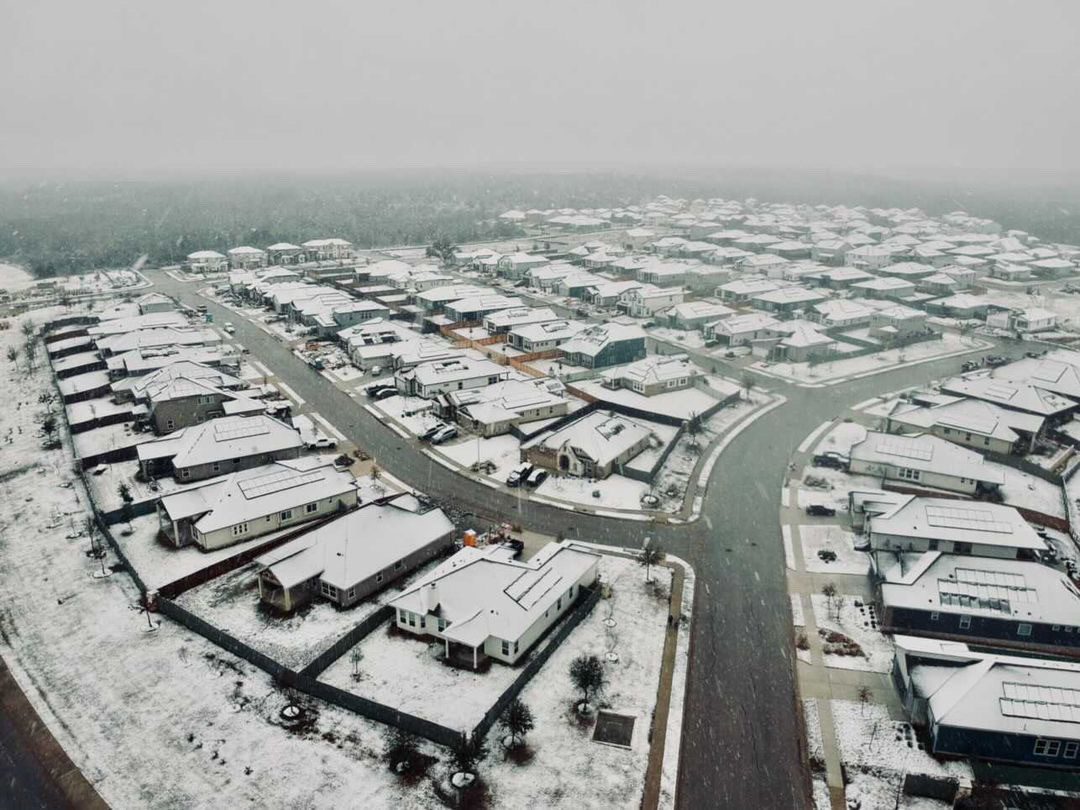 Photo Courtesy Oneal
Austin's Whisper Valley GeoGrid™ Proves to be Resilient Sustainable Energy Solution After Extreme Weather and Grid Events
BOSTON & AUSTIN, Texas, February 03, 2022—(BUSINESS WIRE)—EcoSmart Solution (EcoSmart), a green energy service provider (Green ESP) designing and delivering innovative geothermal infrastructure for zero-energy capable communities, has proven its flagship Whisper Valley community successfully weathered the February 15, 2021 winter storm that overwhelmed the state's electricity infrastructure and caused massive power outages across Texas. EcoSmart, an affiliate of Taurus Investment Holdings, and its EcoSmart GeoGrid™ used 54% less electricity to power Whisper Valley homes when compared to typical Texas homes because, among other reasons, the GeoGrid™ is located underground, where it is naturally winterized and able to avoid the freeze problems that occurred with other energy sources, demonstrating further that it can be an innovative energy solution across all regions and climates.
As the one-year anniversary of the storm approaches, the Electric Reliability Council of Texas (ERCOT) and the State of Texas are working to introduce long term plans to avoid an energy failure like what was experienced last February. Taurus and EcoSmart's Whisper Valley is a practical solution for delivering affordable and resilient energy no matter the weather.
"Homes in Whisper Valley are designed to consume less energy which naturally reduces the overall energy required and puts less strain on the state's electric grid," said Wesley Brinkmeyer, Manager of Energy Services for Bluebonnet Electric Cooperative.
Whisper Valley is a first-of-its-kind eco-community with an innovative EcoSmart GeoGrid™, which delivers geothermal heating and cooling to homes, reducing energy consumption by up to 65%. When combined with solar panels that generate electricity, the result is a zero-energy capable home. This sustainable, renewable energy system could greatly reduce energy consumption on a mass scale if implemented in new residential and commercial developments across the state and country, helping to offset the energy requirements needed for future climate-related grid constraints.
"During last February's unprecedented storm, our GeoGrid performed beyond admirably in extreme conditions, which further proves that it is a revolutionary energy solution, that can be applied to various geographical regions," said John Towle, CEO of EcoSmart. "Through EcoSmart's state-of-the-art efficiency monitoring tools, we knew exactly how the heat pumps were performing at all times during the winter storm and are pleased to report there were no weather-related damages to our customers' homes in Whisper Valley."
The GeoGrid is a hybrid loop system that stores thermal energy in the Earth during hot months, and then uses the stored thermal energy in the winter to heat homes much more efficiently than traditional systems. It does this with the use of a Ground Source Heat Pump (GSHP) that takes the place of a conventional HVAC system. The EcoSmart program also includes smart home technology and an energy monitoring system in every home to maximize the energy efficiency of the homes. An already proven home heating and cooling solution, EcoSmart and Taurus are the only developers to offer a GeoGrid solution at the scale of Whisper Valley.
The EcoSmart geothermal equipped home is already less energy intensive than a conventional home. The physics of the geothermal system enable a house to use one unit of energy to deliver approximately four units of temperature conditioning, resulting in far less energy draw than a conventional house. This lowers peak demands on the utility and minimizes the amount of onsite energy production or storage a house needs, lessening dependence on the power grid.
About Taurus Investment Holdings, LLC
Established in 1976, Taurus is a global real estate private equity firm with over 45 years of experience as a general partner, investor, and operator. By empowering and combining the strength of in-house experts in the fields of multifamily, office, logistics, mixed-use, and renewable energy, the firm has created targeted, scalable investments into value-add, core-plus, and development opportunities.
Taurus is focused on using innovative energy efficient technologies to make the extensive infrastructure investments required to decarbonize residential and commercial buildings through its EcoSmart Solution and RENU Communities affiliates.
Throughout North America and Europe, Taurus is consistently recognized as one of the premier owners of both directly managed and joint venture commercial real estate. To date, Taurus has purchased and developed more than 65 million square feet of residential, office, industrial, retail and other commercial real estate assets throughout the world with a total acquisition value of over $9.25 billion. www.tiholdings.com.
About EcoSmart Solution
EcoSmart Solution is an affiliate of global real estate investment firm Taurus Investment Holdings (TIH) and a green energy services provider (Green ESP), designing and delivering innovative geothermal infrastructure combined with a comprehensive suite of distributed energy resources; enabling developers and builders of large-scale new construction neighborhoods to create energy efficient communities and homes, providing new homeowners affordable, comfortable, and sustainable living. https://ecosmartsolution.com
[Source: Yahoo! Finance]