Celebrate Earth Day at the Whisper Valley Green Home Tour
Every Earth Day, citizens of the world are encouraged to self-reflect on how we can reduce our carbon footprint and make the Earth a better place to live. Did you know one of the biggest environmental impacts you can make in your lifetime is choosing an energy-efficient home powered by clean, renewable energy?
In celebration of Earth Day, Whisper Valley, East Austin's eco-friendly master-planned community, will host a Green Home Tour on Saturday, April 22. Visitors will be able to tour zero energy capable homes that can save carbon dioxide emissions from the equivalent of 233,718 pounds of coal burned over the course of 30 years.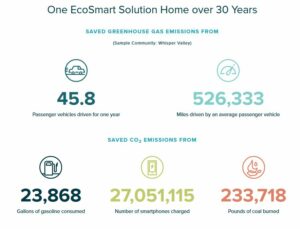 The Green Home Tour takes place from 10 a.m.-5 p.m. Attendees have the opportunity to tour model homes and move-in ready homes priced from the $300s-$600s in Whisper Valley's newest phases by Pacesetter Homes, GFO Home, AHA Dream Homes, Thurman Homes and Terrata Homes.
The event also features four Tesla vehicles to test drive, raffle prizes and food available for purchase from Frank's Taco Truck from 11 a.m.-1 p.m. Additionally, the first 100 visitors will receive a free sapling tree!
What is a Zero Energy Capable Home?
Whisper Valley homes are powered by renewable energy sources: geothermal and solar. The EcoSmart Solution, a green energy service provider in Whisper Valley, designed a revolutionary GeoGrid™ to deliver geothermal heating and cooling to every home through ground source heat pumps. Coupled with solar photovoltaic arrays, energy consumption is reduced by up to 80 percent in every home, which also achieve superior HERS Ratings as low as 7-25.
Between the geothermal heating and cooling, solar panels, high-efficiency appliances, smart home technology, and home energy monitoring system, Whisper Valley residents can control their home's energy usage by applying good energy behavior to reduce their monthly energy bills to nearly zero. Every homebuyer also has the opportunity to add an optional home battery upgrade to provide resiliency during grid failures and utilize stored solar energy during evenings.
Sustainable Living in Whisper Valley
Green living goes beyond the home in Whisper Valley. Parks, trails and 700 acres of greenspace give homeowners plenty of opportunities to get out and enjoy nature. On-site, organic mini farms are managed by our community farmer and homeowner volunteers reap the reward of the harvest.
Whisper Valley recently unveiled concept plans for the a 600-acre public park, which will feature nature trails and programed areas including picnic areas, open space, playgrounds, community gardens, a natural amphitheater for events and so much more.
Our community lifestyle director also organizes events with sustainable living in mind.
Learn all about life in Whisper Valley and the benefits of living in a sustainable home at the Green Home Tour on Saturday, April 22! Our community is located just east of SH-130 along FM 973 at 9400 Petrichor Blvd. Whisper Valley, TX 78653.