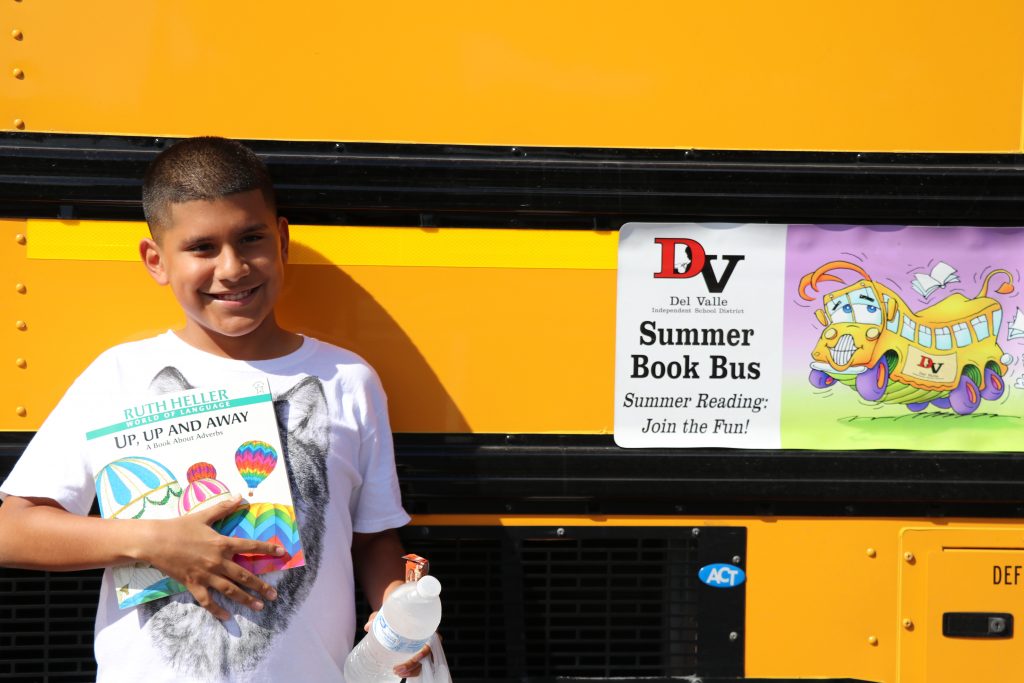 Del Valle ISD
Del Valle ISD Book Bus at Whisper Valley
The Del Valle ISD Book Bus takes literacy on the road during summer break to keep students and families engaged. The Book Bus will make three more stops in Whisper Valley on July 15th, 22nd and 29th. Read on to learn about this remarkable program!
Del Valle ISD Book Bus
The district's Book Bus program provides access to free books and family resources to students in all grade levels at dozens of stops on Thursdays throughout the months of June and July.
Each week, district staff members load up books and activities on buses for distribution on 11 routes in DVISD neighborhoods. In the first week, the district distributed books to about 100 families.
"For kids, summer can be a season rich in play, creativity, and learning," said Stefanie Carter-Dodson, Director of Literacy, in a district press release. "This event showcases the huge heart for literacy among our staff. The joy of seeing our kids walking away from the buses with an armful of books is a truly special experience."
Book Bus at Whisper Valley
The Del Valle ISD Book Bus will be parked on Petrichor Boulevard by the Whisper Valley Discovery Center from 11-11:30 a.m. on the following Thursdays: July 15, July 22 and July 29.
Children and families are able to enter the bus and choose their own books. The books are free and children are welcome to take as many as they would like!
For safety precautions, only one group (or family) is asked to board the bus at a time if they are unmasked.
Whisper Valley is thrilled to be a part of Del Valle ISD's inspiring summer reading initiative. Our community will one day be home to two future Del Valle ISD campuses, giving our youngest residents convenient access to unique educational opportunities.
In fact, the district has partnered with Tesla for a new student training program thanks to the new Giga Texas Tesla factory, which is located just 7 minutes away from Whisper Valley.
We hope our Del Valle ISD students are having a great summer and will find amazing adventures awaiting them in books received from the Del Valle ISD Book Bus!