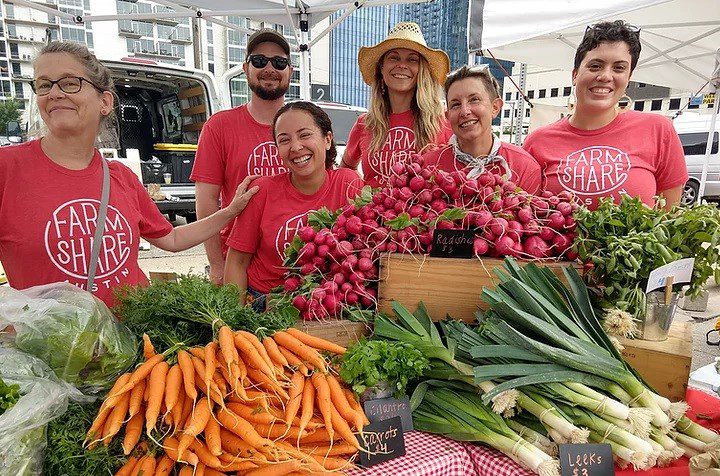 Courtesy Farmshare Austin
All About Farmshare Austin, Whisper Valley 5K Charity Beneficiary
Whisper Valley is proud to introduce Farmshare Austin as the charity beneficiary of the 2021 Whisper Valley 5K on Saturday, Sept. 18. Founded in 2012, Farmshare Austin is a nonprofit 501(c)3 organization training the next generation of farmers in Central Texas and increasing healthy food access throughout the Eastern Crescent of Austin and Travis County. Portions of proceeds from the 2021 Whisper Valley 5K will benefit Farmshare Austin and aid their mission in addressing local food access issues. Read on to learn more about Farmshare Austin and the important work they do in Travis County!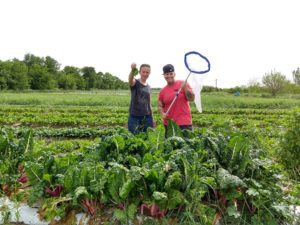 About Farmshare Austin
The mission of Farmshare Austin is to grow a healthy local food community. The organization accomplishes this through beginning farmer training and increasing food access. The nonprofit manages a 10-acre farm in eastern Travis County, where they grow certified organic produce and teach agricultural students in their Farmer Starter program.
Farmshare sold their produce at "Mobile Market" farm stands that operated as part of the City of Austin's Fresh for Less initiative, but during the COVID-19 pandemic, they pivoted their operations to offer home curbside delivery. Their program became one of the only options available for SNAP customers locally who wanted to shop online or receive grocery delivery and also use their SNAP benefits.
"Once the pandemic hit, the Mobile Market host sites shut down," said Daniela Silva, Communications and Outreach Manager for Farmshare Austin. "We knew that there was a huge gap of customers who needed a safe, reduced-cost, weekly source of fresh produce and healthy groceries. In a matter of 2 weeks, we created the curbside delivery program. Customers could access the same products but place orders online with no additional fees."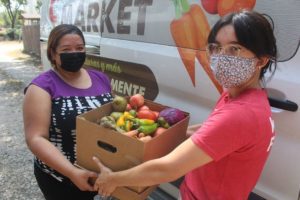 Farmshare provides access to healthy food to a needy population across Austin, including low-income families with young children, elderly and homebound customers. According to a Farmshare Austin video, a third of the organization's customers speak Spanish as their primary language and a large portion self-report as experiencing food insecurity.
Mobile Markets briefly returned in the summer but have since been put on hold during surges in COVID cases in the Austin area. Farmshare plans to continue curbside delivery to meet the needs of the community while also keeping their customers and staff safe during the pandemic, and ultimately plans to operate a mix of delivery and in-person mobile markets in the future.
"Above all, we're an organization that values equity and food justice in the work that we do, and every day we're working to make that more integral in our work," Silva said.
Farmer Training
Farmshare Austin's Farmer Starter program is a 20-week program for adults who want to learn how to be sustainable, regenerative farmers. Applications for the spring 2022 program are currently open through the month of September. The deadline is Sept. 30.
"Farmer Starter teaches the art, science and business of farming through a combination of hands-on on-farm experience, classroom learning and community workshops at area agricultural operations, " Silva said.
Silva added that the Farmer Starter program also addresses systemic barriers in the agricultural world, including systemic racism, sexism and land access issues that are often overlooked in agricultural programs.
After completing the Farmer Starter program, graduates have the option to lease land through Farmshare's Cultivator program at no additional cost so they can gain more experience growing their own produce. That produce is then used in the Mobile Markets and curbside delivery program.
Scholarships are available and students can find the application on Farmshare's website.
How to Support Farmshare Austin
In addition to registering for the Whisper Valley 5K, Farmshare Austin accepts donations through their website. The organization is holding their annual "You-Pick" fundraising event on December 11th from 11am – 2pm where members of the community are invited to the farm to pick their own veggies and enjoy music, food and drinks. Subscribe to the Farmshare Austin newsletter and follow them on Facebook and Instagram for updates about this year's You-Pick event.
We are honored to have Farmshare Austin as our charity beneficiary of the 2021 Whisper Valley 5K! Farmshare Austin's extremely important work in sustainable farming and food access aligns with Whisper Valley's mission to provide a greener and healthier way to live.
The Whisper Valley 5K takes place on Saturday, Sept. 18, from 8-11 a.m. In addition to the 5K fun run, the event features live music, food trucks and a Farmers Market. Later that evening from 7-8 p.m., Whisper Valley will also host a concert showcasing "The Voice" finalist Jordan Matthew Young in conjunction with Austin Monthly's Front Porch Sessions.
For more information about the event and to register, visit WhisperValleyEvent.com.