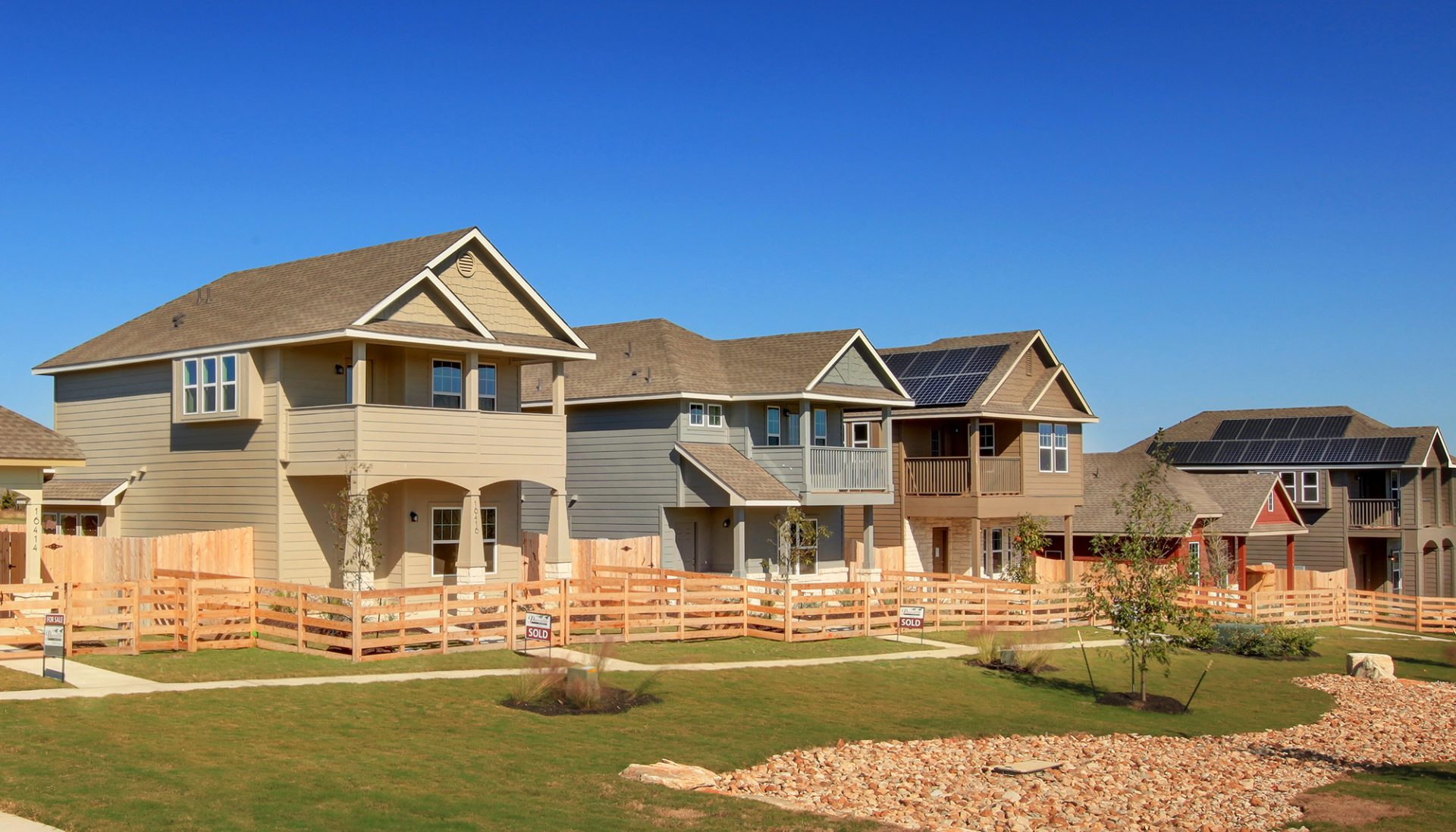 Homebuilding ramps up at massive East Austin community as Tesla moves earth nearby
Whisper Valley, a trendsetter among big developments, now full steam ahead
Whisper Valley, a 2,062-acre environmentally friendly master-planned community in Manor, is already seeing the impact of the $1.1 billion car plant that Tesla Inc. is building in far East Austin, which could employ about 5,000 people.
"We've already had sales to Tesla families that are looking here," said Doug Gilliland, president of Taurus of Texas Holdings LP, the division of Boston-based Taurus Investment Holdings LLC that is developing Whisper Valley.
Homebuilding is ramping up this summer at the community near State Highway 130 and FM 973, a few miles south of downtown Manor. Gilliland said 267 buildable lots were recently completed and made available for builders in phase two. Builders are starting to build their model homes.
"Everything in Whisper is beginning to accelerate," he said. "I think we are at the right place. We are only about five miles away from Tesla. You can get there very easily, but that whole corridor, even before Tesla announced, we were seeing more and more buyers looking east of I-35."
Tesla picking East Austin for its gigafactory "validated" that part of the city, and the electric carmaker will hasten commercial and residential growth nearby, Gilliland said. Taurus is already seeing interest from developers on other property it owns on the east side for office and industrial buildings.
"My prediction is that you are going to see growth movement from both the south and the north along that State Highway 130 corridor and increasingly we are looking at that as a tech corridor," he said. "We already see that shift coming. There's a vast amount of land available strategically located, lots of folks are moving into that area, so you have that great combination of employment base and availability of land and great infrastructure."
For now, the available land on the east side remains affordable enough for production builders to offer a wide range of houses, Gilliland said.
Once complete in the next 15 years, Whisper Valley will have up to 5,000 houses and 2,500 apartments along with stores, restaurants, office buildings, parks, community gardens and schools. Home prices start in the low-$230,000s and go up to the mid-$400,000s.
It's a similar concept to the successful 700-acre Mueller community, which is expected to have at least 6,200 housing units when finished.
Whisper Valley is a sustainable community where homes use geothermal heating and cooling, along with solar panels, to cut energy use by up to 65%. The houses are capable of using zero energy over time.
"Whisper Valley not only pioneered the Southeast submarket, it also introduced groundbreaking environmental standards, such as geo-thermal heating/cooling and zero-energy capable homes," said Vaike O'Grady, Austin regional director for MetroStudy, which tracks homebuilding. "To be honest, it took most Austin builders a little time to adjust. And consumers also had to get comfortable with paying a little more to 'live green' in an untested location. Now Whisper Valley is starting to gain momentum, and builders are showing interest and coming online."
"As the Del Valle and Manor submarkets attract more interest, I expect Whisper Valley home sales to pick up as well," she added. "Its environmental focus will of course appeal to incoming Tesla workers; the new factory is just a few minutes' drive away. But in the age of Covid, who wouldn't want to live in a community that's focused on health and well-being?"
The homebuilders at Whisper Valley are Pacesetter Homes, GFO Home, Buffington Homes, AHA Dream Homes, Thurman Homes and AVI Homes. Another two builders could be added for the third and fourth phases of the community.
Taurus is also preparing to build the first apartments at Whisper Valley beginning next year.
About 300 market-rate apartment units will be built along Braker Lane near the first phase of single-family housing. Another 280 units will be built in a separate community for residents making from 60% to 80% of the median family income. In the future, Taurus is also considering building apartments for seniors.
Taurus is in the process of designing a pedestrian-friendly commercial village on the west side of the community where residents can live and walk to work. It will be connected to trails and pocket parks.
"The demand for services is growing quickly," Gilliland said. "People want a place to get their groceries that is in the community. They want restaurants and small offices."
He said he would like to see construction begin on this part of the community in the next couple of years.
Ramping up
Lee Whitaker, vice president at Pacesetter Homes, said the homebuilder is preparing to ramp up construction with the expectation to have new houses ready for buyers starting in the first quarter of 2021.
"It is just perfect timing with Tesla coming in," he said.
Whitaker said buyers in Whisper Valley are value a sense of community. Pre-Covid-19, the community had a variety of programming, brought in food trucks and offered vegetables grown at its community gardens.
To date, about 150 families are living at Whisper Valley in houses built during the first phase consisting of 237 lots. Homebuilding kicked off in 2017 and about 200 houses have been sold so far.
Development was recently completed of 267 building lots in phase two and builders are beginning to start construction on their model homes.
Taurus is now working to get 500 more building lots entitled for phases three and four. Gilliland said he hopes to have those lots ready for builders before the end of the year.
"You normally wouldn't entitle that many at one time," he said. "What we want to do is get through the entitlement process with enough lots that we can build to whatever the market demand is. The size of our phases are growing and our focus is to be very efficient so we have a lot of lots entitled and then we have strong demand for builders that are ready to build on those lots as soon as we can produce them."
Gilliland said he expects around 200 houses to be sold at Whisper Valley this year. The intent is to ramp up to full production where 300 to 400 houses can be sold each year.
Source: Austin Business Journal