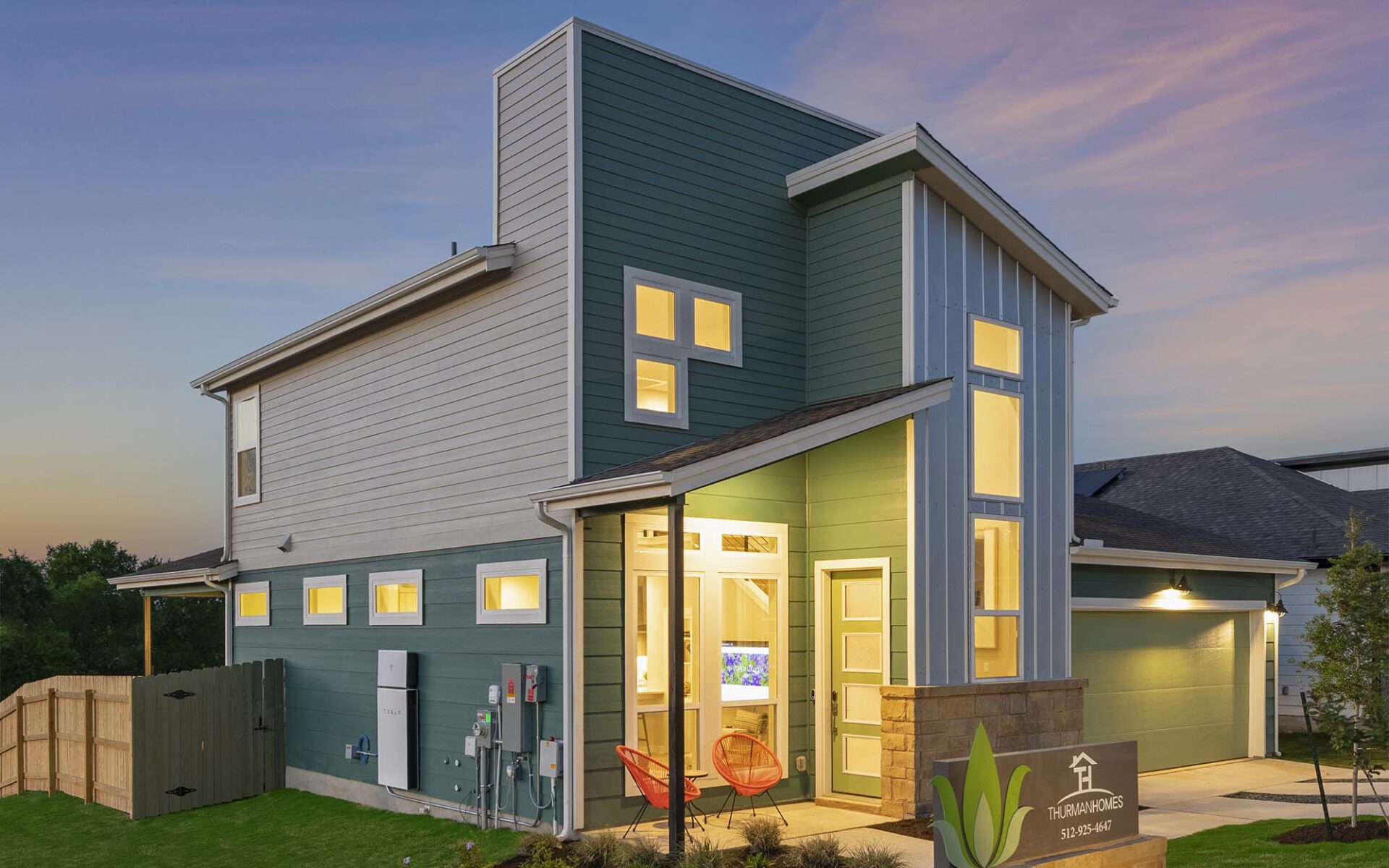 EcoSmart and Sustainable Homes are here in Austin
There is a growing interest in sustainable living in Austin, TX, and nationwide. People are looking for ways to reduce their environmental impact and live more sustainably. One way to do this is by making your home more energy efficient. With these new features, our home builders have made sustainability easier than ever by building EcoSmart Homes! 
Our homes save money and the planet
.
We are a 2,067-acre master-planned community located east of the SH-130 Tollway and just minutes from Tesla's Austin Gigafactory. The new homes offered by AHA Dream Homes, GFO Home, Pacesetter Homes, Terrata Homes, and Thurman Homes. We offer the amenities and lifestyle programming you'd expect from a traditional master-planned community, but we also offer the most energy efficient homes in Austin! 
Our new homes are built with sustainability in mind as part of our core offering. Each home in Whisper Valley comes standard with high-efficiency features. These include geothermal heating and cooling, solar PV, ENERGY STAR appliances, smart home technology, energy usage monitoring, and more! 
GeoGrid™ heating and cooling
Whisper Valley is powered by EcoSmart technology that delivers geothermal heating and cooling by utilizing the earth's raw heat. The GeoGrid™ transmits heat through special underground pipes, connecting them to ground-source heat pumps in all homes. This community-wide grid powers the homes by drawing from the natural, constant temperature of the earth and the ground source heat pumps replace traditional HVAC units – which also reduces noise pollution and improves in-home air quality! This system reduces your home's energy needs by up to 70%! 
Solar Power Enabled
Whisper Valley homeowners use solar power to generate clean energy for their families. Solar panels are an excellent way to generate your own electricity and reduce monthly electrical bills. Excess energy can be stored in optional battery storage systems – which would keep your home powered in the case of power outages even if the sun isn't shining! Solar-powered homes save money in the long run through tax credit incentives and energy savings. The solar panels on Whisper Valley Homes are connected to the grid, offering the opportunity to sell back excess energy to receive credits for your solar in low energy usage months! 
SENSE Usage Monitoring
Whisper Valley residents utilize and energy monitoring system in their home that allows them to  monitor their energy consumption in real-time and make changes based on this information.
For example, if it becomes clear that a specific appliance uses excess energy when it is not being used by a resident, they can power down or unplug that device when it is not needed. Homeowners can make informed decisions on how they consume real-time SENSE data. 
Smart Technologies are standard
.
Our Homes are innovative power. The Google Nest also provides other useful functions, such as remotely controlling and monitoring lighting, temperature, air conditioning, and other environmental variables to save energy. The Nest system connects with thousands of IoT devices, allowing exact control of your home's power consumption. 
Pre-Wired for EV Charging 
The future of electric vehicles is here in Whisper Valley. Each garage is pre-wired for a Level 2 EV charging station. So when you move in, you won't need to immediately re-wire your garage – just install your charging station and you are all set! The community is also a Tesla Destination Charging location! 
Home Sustainably Built at Whisper Valley
Austin is the place to be if you're looking for a sustainable home. With our commitment to energy efficiency, Whisper Valley is leading the way in sustainable development. Our team can help you find the perfect property that meets your needs and fits your budget – so please check out more here our website or give us a call today at 512-710-3799!