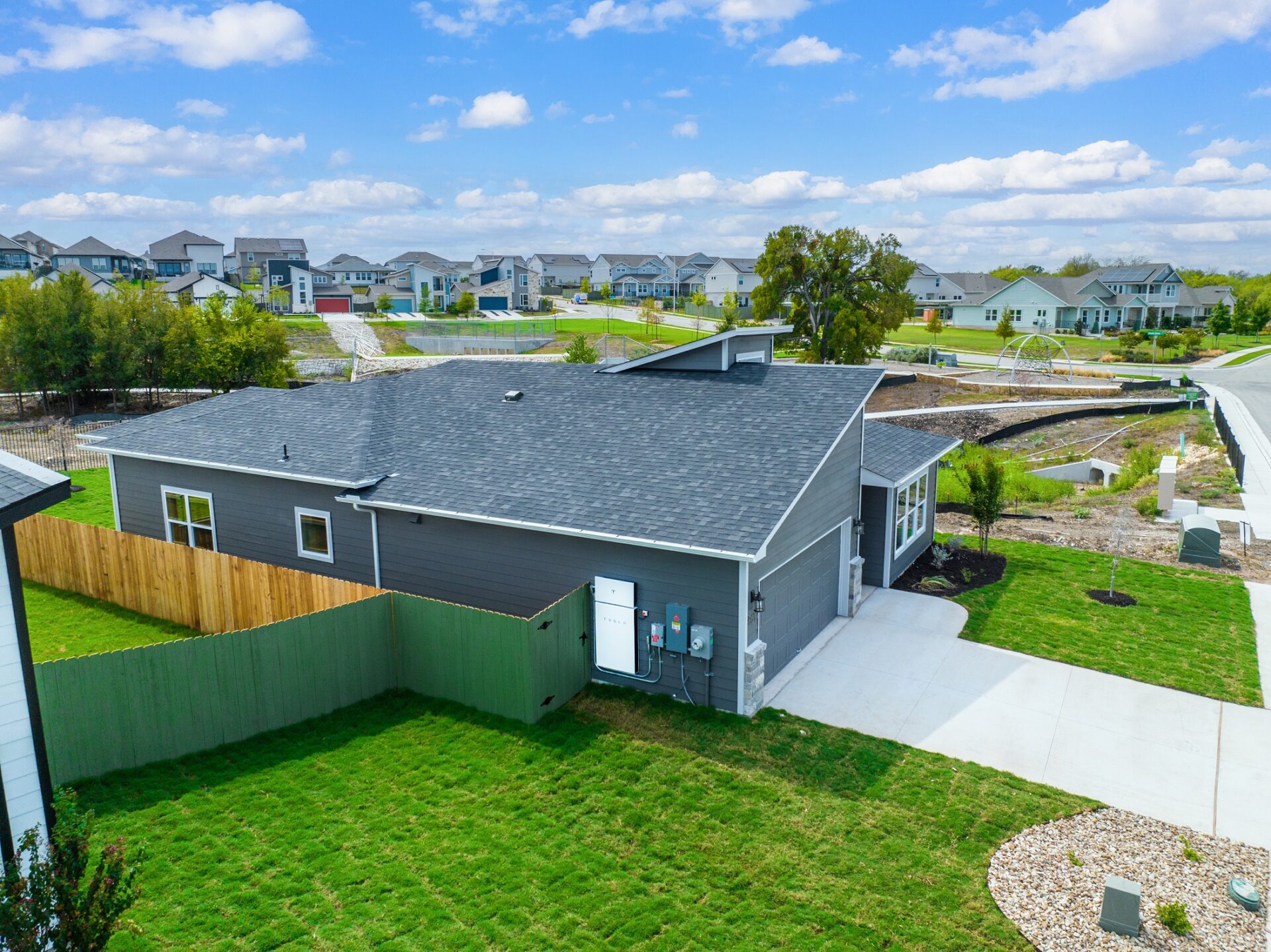 AHA Dream Homes Earns Tesla Certified Builder Designation
AHA Dream Homes, a leading residential homebuilder, is excited to announce their transformative partnership with Tesla Energy – making them a Tesla Energy Certified Builder. This milestone paves the way for the integration of Tesla Solar Panels into their green building homes, marking a significant leap toward eco-conscious and sustainable living.
For over a decade, AHA Dream Homes has been at the forefront of building world-class, eco-friendly 1-story homes. Their most promising project yet is nestled within the master-planned community, Whisper Valley Austin. With a commitment to environmental responsibility, these zero energy capable homes provide residents with a budget-conscious yet uniquely eco-savvy lifestyle.
Soaking Up the Sun with Tesla Solar Panels
AHA Dream Homes' new properties in Phase 3 of Whisper Valley will come equipped with Tesla Solar Panels. These state-of-the-art panels empower homeowners to generate their own electricity while significantly reducing reliance on traditional power sources. Beyond the considerable energy cost savings, homeowners will be actively contributing to a greener planet.
Tesla Powerwall and EV Tesla Wall Connector Upgrades
As Tesla Energy Certified Homebuilder, AHA Dream Homes also offers an option to upgrade to Tesla Powerwall and Tesla Wall Connector which seamlessly integrate with Tesla Solar Panels, providing a comprehensive energy solution for your home. Powerwall stores excess solar energy for use during non-sunlight hours, while the Wall Connector ensures efficient and rapid charging for electric vehicles, enabling sustainable and self-sufficient energy consumption. These enhancements not only ensure 24/7 energy independence and security but highlight and reinforce AHA Dream Homes' commitment to providing comprehensive energy solutions.
Integrated ZIP System Roof & Wall Sheathing
Additionally, AHA Dream Homes integrates the innovative ZIP System Roof & Wall Sheathing to guarantee superior insulation and airtightness. By reducing heat loss and ensuring consistent indoor comfort, these green building homes possess impressive HERS scores, often dipping into the single digits.
TRAILBLAZERS IN THE REAL ESTATE INDUSTRY
What Makes AHA Dream Homes Stand Out?
As industry-leading homebuilders, AHA Dream Homes provide high-quality, zero energy capable homes enriched with cutting-edge technologies like Geothermal HVAC and Tesla PV Solar Panels, which help drastically reduce energy consumption and minimize carbon footprints.
In a real estate industry dominated by cookie-cutter builders, AHA Dream Homes stands out for their commitment to world-class living spaces and eco-friendly innovation.
Becoming a Tesla Energy Certified Homebuilder in partnership with Tesla Solar Panels is a testament to their commitment.
Exclusive Financing Offers
In addition to the introduction of Tesla Solar Panels, AHA Dream Homes is pleased to announce exclusive promotional financing options for their inventory homes. As part of their commitment to making sustainable living affordable and accessible, these financing opportunities will enable more individuals and families to join the Whisper Valley community and enjoy the benefits of eco-friendly homeownership.
Whisper Valley Austin: The Master-Planned Eco-Oasis That's Transforming Sustainable Living
AHA Dream Homes is proud to play their part in building this community, where green living is integrated in every facet of life. Beyond eco-friendly homes, Whisper Valley offers breathtaking landscapes, trails, parks, a fitness center, dog park and more. With access to communal organic gardens, residents can enjoy fresh produce while simultaneously reducing the community's carbon footprint.
EXPERIENCE A BRIGHTER, GREENER, AND MORE SUSTAINABLE FUTURE
Answer the Call of Whisper Valley
AHA Dream Homes invites you to visit their website, where you can fill out a form to receive more information about the project and the Whisper Valley community as a whole. Alternatively, you can give them a call to learn more about these extraordinary eco-friendly homes and the exclusive financing offers available.