Introducing Sense Energy Monitoring in EcoSmart Homes
Keeping up with the latest home technology is an important component of the EcoSmart Solution package in Whisper Valley homes. In addition to new home automation products we introduced earlier this year, all new EcoSmart homes in Phase 2 will include Sense Energy Monitoring, a new energy monitoring program that enables homeowners to gain visibility of their energy behavior and take control over how they allocate their energy expenditure.
Read on to learn more about Sense energy monitoring in Whisper Valley homes.
EcoSmart Solution
If you're not familiar with our innovative, eco-friendly community in Austin, Whisper Valley is the first EcoSmart community that utilizes a community-wide geothermal energy grid, solar photovoltaic (PV) generation, energy-efficient home appliances, home automation technology and much more to deliver zero-energy-capable homes.
The EcoSmart Solution is an integrated technology package engineered to provide a clean and zero-energy-capable solution for entire communities like Whisper Valley. There are multiple components to this comprehensive system that all work together to reduce consumption, protect the environment, eliminate noise and save you money.
Sense Energy Monitoring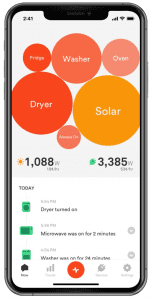 EcoSmart homes in Whisper Valley now include Sense, a home energy monitor that tracks your home's energy use in real time. The monitor delivers real-time information to an app that the homeowner can access on their smart device. From there, you can track how much electricity you are using, identify personal energy behaviors and find opportunities to save money.
How does it work? The Sense energy monitor installs in your home's electrical panel and reads the electrical current being drawn and sends the data to the cloud.
Save Money
Once Sense learns your home energy behavior, you'll be able to view total usage by device as well as breakdowns by day, week, month and year. You can also set custom alerts for when a device turns on or off for longer than a certain time, such as your refrigerator.
Sense also integrates with smart home devices already found in Whisper Valley homes, including Google Assistant integration.
Whisper Valley is thrilled to include Sense energy monitoring in our new homes in Phase 2 of our community. Now underway, Whisper Highlands will feature 267 more zero-energy-capable homes, new models and new amenities including our recently-opened dog park, new organic gardens and parks, and expanded trails.
To learn more about Whisper Valley and the EcoSmart Solution, we invite you to visit our Discovery Center, call 512-710-3799 or visit www.whispervalleyaustin.com.