The Perks of Living in an Austin Community with Natural Amenities
Many Austin master-planned communities tout great amenities like pools and fitness facilities, but how many also offer a multitude of natural amenities to help you lead an active lifestyle? Known as a "Naturehood," Whisper Valley features organic gardens, copious greenspace, parks, trails, a Certified Wildlife Habitat and a forthcoming 600-acre public park that will connect to a massive regional park system.
Read on to see all of the benefits of living in an Austin community with so many natural amenities for your family to explore!
Healthier Living
Undoubtedly, one of the best parts about living in a community with amazing natural amenities is the ability of achieve a healthier lifestyle. Healthy living amenities are a huge component of Whisper Valley. Miles of nature trails connect neighborhoods, encouraging homeowners to stay active year-round.
We are also proud to grow organic produce right in our own community gardens. Our community farmer works with volunteers to grow a wide variety of crops. Best of all, volunteers reap the reward of the harvest!
Whisper Valley also features many exercise opportunities including an on-site fitness center, a running club designed for all fitness levels and yoga classes. Many of our homeowners also joined Camp Gladiator to work out together during fitness classes held outside our community Discovery Center three times per week.
Additionally, healthy cooking classes are also held in the demonstration kitchen within the Discovery Center.
Connected Community
When you live in a community with beautiful natural amenities, you'll want to spend more time outdoors enjoying where you live. Whisper Valley provides many opportunities to get out and meet your neighbors, including social events and activities organized by our lifestyle director.
Hit the beautiful trails in Whisper Valley or take your furry friend to our dog park. Our community features nature trails along wooded creeks, rolling green space and a Certified Wildlife Habitat®. Conceptual plans were also recently announced for Whisper Valley Park, a 600-acre public park featuring nature trails, playgrounds, picnic areas, an amphitheater for events and so much more.
Named Austin's "next Zilker Park," Whisper Valley Park will become the centerpiece of a new master trail connecting Walter E. Long Park & Lake, the Tavis County 14-mile trail system and the East Metropolitan Park, offering an estimated 20 miles of trails.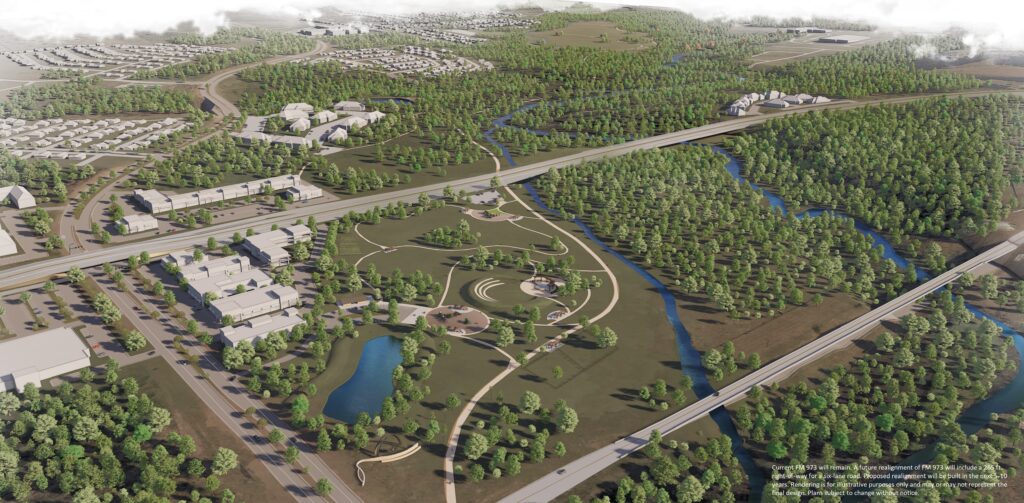 Quality of Life
Escape the congested city and improve your quality of life when you live in a community with ample natural amenities like Whisper Valley! Our community is located in East Austin along SH 130, just 10 miles away from Austin-Bergstrom Airport. We offer a convenient commute to major employment centers while also embracing the quieter, slower pace of life outside the city.
If you're ready to make your move to an Austin community offering more natural amenities, we invite you to visit Whisper Valley. Our community Discovery Center is located at 9400 Petrichor Blvd., or, you can call us at 512-720-7467 for additional information.